MARINE SUPER DIESEL ADDITIVE 500 ml — 25004 LIQUI MOLY
A combination of agents which cleans, disperses, protects components and boosts the cetane number. The enhanced ignition performance improves the combustion of the fuel which in turn reduces emissions. The high proportion of corrosion protection additives reliably protects the entire fuel system from the formation of rust and corrosion. Due to its outstanding cleaning properties, the components remain clean and deposits are removed. The engine performance remains at a consistently high level. For all diesel engines in the marine sector, including pumped-jet and common rail injection systems. Fully compatible with all conventional diesel and biodiesel fuels.
Application
500 ml is sufficient for 250 l of fuel. Filling the dosage chamber (25 ml) once is sufficient for 12.5 l of fuel.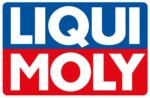 Quick Buy – ONLY FROM BULGARIA!!! | We will contact you with the shipping cost
Just 4 fields to fill in