MARINE ATF 1 L — 25066 LIQUI MOLY
ATF oil specially developed for the marine sector based on synthetic technology and the latest additive technology. Offers increased corrosion protection and minimizes wear compared with conventional ATF oils. The high thermal stability and excellent protective properties give it optimum resistance to aging with maximum safety reserves. Compatible with all sealing materials.
For drives and transmissions such as reverse gears, power steering, control systems, trimming systems, hydrostatic transmission ratios and hydraulic and mechanical systems that require the use of an ATF oil. Cannot be used where GL4 or GL5 oils are specified.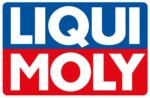 Quick Buy – ONLY FROM BULGARIA!!! | We will contact you with the shipping cost
Just 4 fields to fill in