MARINE DIESEL PROTECT 500 ml — 25000 LIQUI MOLY
The efficient solution for bacteria, yeast and mold. Suitable for reliable long-term preservation. Thanks to the cleaning components, ensures optimum cleanliness in the entire fuel system. With corrosion protection for all metal components. The cetane number booster guarantees easier starting when recommissioning and maximum engine performance. Use biocides safely. Always read the label and product information before use.

Application
Ratio 1:200 booster dose for systems which are already contaminated. One measuring cup (25 ml) is sufficient for 5 l of diesel fuel. As a preventive application (1:1,000), one measuring cup (25 ml) is sufficient for 25 l of diesel fuel. Shake before use.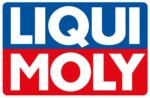 Quick Buy – ONLY FROM BULGARIA!!! | We will contact you with the shipping cost
Just 4 fields to fill in