MARINE GLOSS SPRAY WAX 400 ml — 25053 LIQUI MOLY
Water-repellent, saltwater and UV-resistant wax with excellent cleaning properties that leave an outstanding shine. Quickly and easily removes light soiling and greasy contaminants without leaving scratches. The protective layer left behind smoothes out scratches and protects the paint from the weather.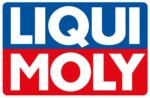 Quick Buy – ONLY FROM BULGARIA!!! | We will contact you with the shipping cost
Just 4 fields to fill in
Its quick and easy application minimizes the effort required. Clean and dry heavily soiled surfaces first. Shake product vigorously before use. Apply thinly and evenly onto the paint surfaces. Only treat one section at a time. After leaving to air for a short time, clean and polish surfaces with a soft cloth or a microfiber cloth (item no. 1651). If necessary, use a dry cloth for polishing. Cellulose or paper towels are not suitable for polishing or re-polishing.